Give a subscription to the TLS - The Times Literary Supplement
Looking for a gift subscription for someone who wants depth, expertise and breadth in their reading?
Take a look at the Times Literary Supplement!
Its categories are many and cover subjects such as the arts, classics, culture, history, language and linguistics, literature, lives philosophy, politics and society, religion, science and technology and the world.
It considers itself to be a the world's leading journal for literature and ideas; it believes in the importance of ideas and over the years since it was born in 1902, its contributors have included people such as Virginia Woolf, Henry James, T S Eliot, Thomas Hardy, Ted Hughes, Martin Amis, George Orwell, Doris Lessing and Margaret Atwood.
In May 2022 some of the highlights included:
Governed in slavery: the troubled rebirth of Ukraine

A smirk in progress: Boris Johnson's Theatre of the Absurd

I came, I saw, I bought the souvenir: Evidence of tourism in the ancient world
In April 2022 some of the highlights included:

In the psychiatrist's lair: the long search for a better take on mental health

Painting the eternal: Van Gogh's preoccupation with knowing himself

The hour of our death: how we address our final days
In March 2022 some of the highlights included:
Freedom at stake: How did Russia and the West fall out?
Being there: what did Angela Merkel achieve in sisteen years?
Pirates of the metropolis: How today's privateers brought their bad business home
The Times Literary Supplement has regular features, too – such as Letters to the Editor, a Note from the Editor, competitions, cartoons, crossword and quiz, book reviews, and a poem of the week. Give a gift subscription here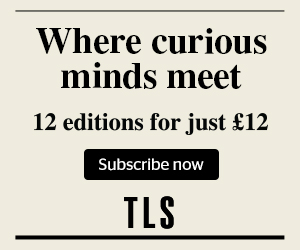 Different subscription options…
At the time of writing, these included….
Print - Just £28.75 a quarter, £2.40 a week
The weekly TLS print edition
Home delivery included as standard
Print and Digital, Pay £12 for your first quarter. Renewing at £30 per quarter thereafter
The weekly print edition, delivered to your door
Unrestricted access to the TLS website & app
Full use of the 118-year old TLS Archive
Exclusive reads through online-only features
TLS first-look with the weekly newsletter
Digital, Pay £20 per quarter
Unrestricted access to the TLS website, app and the TLS Archive
Exclusive reads through online-only features and the weekly newsletter


To purchase a gift subscription
Just choose your subscription here and then create a username on the following page. After that, you can purchase the TLS subscription on behalf of someone else by simply ticking the relevant boxes! Go to the TLS here!