Don't miss: Scotland – A Year in the Wild starting on Friday 25 June 2021 at 7pm, Channel 5
Posted on
Wildlife lovers have a real treat in store when a new series begins on Channel 5.
Scotland – A Year in the Wild starts on Friday 25 June 2021 at 7pm on Channel 5. It covers one season per episode. The opening episode covers spring, and there is an incredible number of beautiful birds such as puffins, ospreys, black grouse and white-tailed eagles
So this is a good opportunity to take a look at some of the organisations working hard to protect Scottish wildlife. Many of these have membership schemes and you can give a gift donation to help them continue with their work.
Scottish Wildlife Trust

The Trust has 42,000 members, most of whom are in Scotland but some live as far away as Oman and Australia! Memberships help the Trust protect wildlife on 120 reserves and campaign for greater protection of land and seas. Members can gain free and unlimited access to visitor centres, copies of the magazine, invites to exclusive events and more! They also have a Resilience Fund you could donate to on behalf of your loved one. You can join online, by post, over the phone or at one of the visitor centres the Trust has. Become a member
National Trust for Scotland

There are 300,000 members of the National Trust for Scotland who work to protect Scotland's beautiful places. Members have free entry to National Trust for Scotland places and free or concessionary entry to National Trust organisation properties worldwide – this includes England, Wales and Northern Ireland. There's free parking at their car parks with downloadable passes as soon as you join, plus publications and guides as well! The Trust cares for ancient houses, battlefields, castles, mills, gardens, coastlines, islands, mountain ranges and all the communities, plants and animals which depend upon them. Give a gift membership today!


The South of Scotland Wildlife Hospital
The South of Scotland Wildlife Hospital aims to rescue, rehabilitate and release native wildlife. Members of the public, the SSPCA and veterinary practices in the area bring animals to the hospital which is sited on the grounds of Barony College. The charity runs on donations from the public and charitable organisations.
Become a member and help injured wildlife! Members receive a newsletter published three times a year, and it has updates, animal stories and news. You can read how the hospital nurses its patients back to health and back to the wild. You can join online or download and print off the form from their website and post it off.
The Roy Dennis Wildlife Foundation
Back in 1995, the Trust was established as the Highland Foundation for Wildlife (it changed its name in 2017). It is dedicated to wildlife conservation and research and has a special focus on species recovery projects such as the white tailed eagle, and the restoration of natural ecosystems. It does important work in the field through projects. It does not have a membership scheme but you can donate to help the Foundation in its work.
The John Muir Trust educates people about nature, looks after over 60,000 acres wild land and influences decision makers. It connects people with wild places, campaigns to protect these places and to restore and re-wild the land. The support of members and donors enable the Trust to do this work. Some of the places it owns include the summit of Ben Nevis and part of the Cuillin on Skye and Glenlude on the Scottish borders.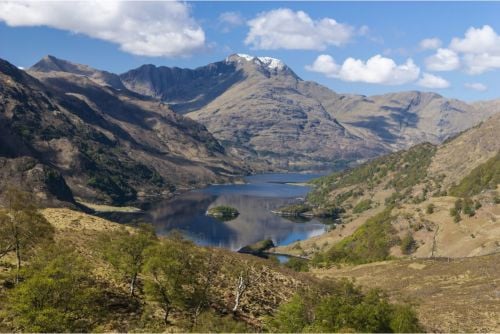 You could give a membership to the John Muir Trust or Adopt an Acre
Image ©John Muir Trust

Members enjoy a welcome pack with recent publications, a bookmark and car sticker, two issues a year of the John Muir Trust Journal, two issues of Members' News, an invite to the AGM and Members Gathering, great members' offers and the chance to join staff and other members on conservation work parties and at local members' group events. Give a gift membership today!
You could also make a donation to the Red Squirrel Survival Trust and help the Trust save red squirrels! They are the UK's only native squirrel. Make a donation on behalf of your loved one here