The Flying Scotsman: A Rail Romance on BBC4 on Wednesday 23 June 2021 at 9pm
Posted on
For anyone who loves steam trains, there's a programme on BBC4 tonight (Wednesday 23 June 2021) about the magnificent Flying Scotsman.
Starting at 9pm on BBC4, the programme steams through the history of this iconic train, taking a journey through its history. Barbara Flynn narrates us through the tale of a train which has a place in the hearts of train enthusiasts everywhere.
Today, the Flying Scotsman is owned by the National Railway Museum and you can make a donation on behalf of a train lover to keep the train steaming along. The Flying Scotsman returned to the tracks in 2016 after a considerable overhaul. There's lots of history about this epic train here.
The National Railway Museum's site says that the Flying Scotsman was built in 1923 at the Doncaster Works. The train was given the name Flying Scotsman after the daily service from London to Edinburgh, which began in 1862. Flying Scotsman was selected to appear at the British Empire Exhibition in London in 1924. She was renumbered 4472 instead of the previous 1472.
The Flying Scotsman clocked 100mph in 1934 – officially the first locomotive in the UK to hit that speed.
Public donations and grants were used to buy the train in 2004 so that it could be brought back to glory. And today, the train is back on tour in 2021 (after the coronavirus cancelled the 2020 tour) and you can see where she is stopping here.
There's an online gift shop with a number of items from the National Railway Museum (also featuring the Flying Scotsman) and English Heritage sells a Hornby Flying Scotsman for anyone who wants to have their own train set at home. It includes rolling stock, track and accessories.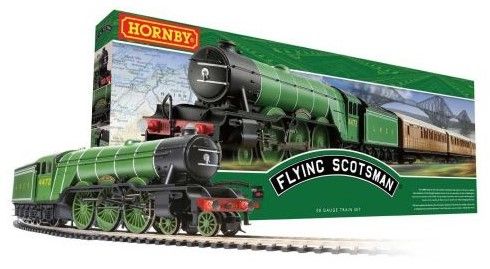 The Hornby Flying Scotsman Train Set is available from English Heritage


The National Railway Museum is now open (please check the website for booking info, opening times, as with the coronavirus things can change very rapidly as we all know).
The website has lots of fascinating information about the history of railways with really interesting stories about times past and our railways. Take a tour through it online!