New pages added to the British Newspaper Archive
Posted on
Back in Time...
In my school days, I can still remember our history teacher told us all about William Caxton who introduced the first English printing press back in 1476. I still have a Ladybird book somewhere about the History of Newspapers – a fascinating story as society changed and newspapers changed with it.
When you think that when they were first published, people tended to rely on people passing through towns, villages and cities for news and information. Town criers were important as well for passing information on. "Read all about it! Read all about it!" features in many films from newspaper sellers who want us to know that there is an important event coming up in the film, as well as in people's lives.
"Read all about it!" ONLINE!
Now the great news is that there's a wonderful project called the British Newspaper Archive which gives people like you and me the chance to take a look at historic newspapers ONLINE! The Archive is a partnership with the British Library and they are working to digitise up to 40 million newspaper pages from the British Library's collection.
That means we can get lost in the pages of history and search out snippets of interesting historical fact to our hearts content. You could start searching for one thing and end up somewhere totally different!
The collection is quite something. The British Library has papers from 1603 to the present day from both the UK and further afield. It's got over 600,000 bound volumes of newspapers, plus 300,000 reels of microfilm.
No more do you need to head off to the British Library to immerse yourself in newspaper achives there. You can do it from home!
The project is on-going and new pages are always being added to what's already online.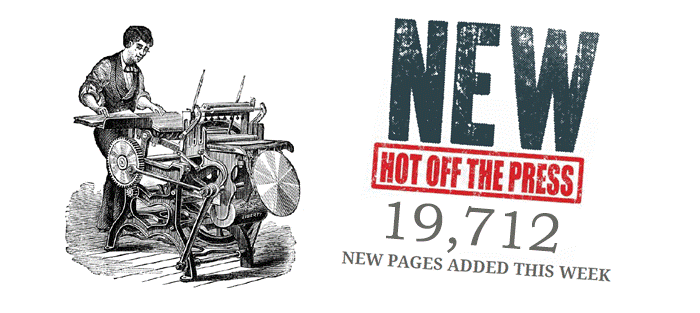 As of 20 August 2020
Head off to The British Newspaper Achive
Recently, pages from the Shetland News, the Helensburgh News, the Bolton Free Press, the Caenarvon and Denbeigh Herald, the Sporting Chronicle, the Glamorgan Gazette, the Pontypridd Observer and the Glamorgan Gazette, the Manchester Daily Examiner and Times, the Radnor Times Express and the Gloucester Mercury were all added.
You can see all the papers that were added in the last 7 days here.
Subscribe to the British Newspaper Archive and your account gives you the power to really delve into the colourful historic past!
You can:
Search the largest collection of British and Irish historical newspapers online, covering nearly 300 years of history – that's an awful lot of history!
Use search tools to discover stories about your ancestors, your locality, major historical events and so on. Just enter what you're looking for into the British Newspaper Archive's search engine and the most relevant results will show up in seconds!
Plus you can save and organise your research around the topics that interest you most
So if you've been watching your favourite television programmes and you want to find out more about the times and what life was like, you can use the pages of the British Newspaper Archive to do just that!
Discover what made up the fabric of life
Maybe you love social history and historical drama. Imagine watching a programme about an English Gentleman. He may have received The Field. What sorts of things did he care about, want to read about and talk about? The Field is the world's longest-running country and field magazine – it was first published in 1853 as "The Country Gentleman's Newspaper." What would a country gentleman find to read when he opened up The Field back then? What country pursuits were all the rage? How have times changed since?
Perhaps you are writing your family history and want to find out more about what life was like back in the day when the relatives that you can trace were growing up. What would they have talked about around the supper table? What would they have worried about? What events might they have gone to? Newspapers can give us all sorts of clues and information.
Give a subscription to the British Newspaper Archive and discover history as it happened with online access to historical newspapers!